Like it or not, restaurant ratings websites play a critical role in getting customers through your door.
Great ratings can keep your seats full, while negative ratings can send potential customers elsewhere. So, if you're not actively taking steps to monitor and improve your online ratings, consider the following.
In today's marketplace, it is standard practice for potential customers to consult websites and apps such as Yelp, TripAdvisor®, and Google when deciding where to spend their money. Studies show that those decisions strongly hinge on how well online reviews represent your business.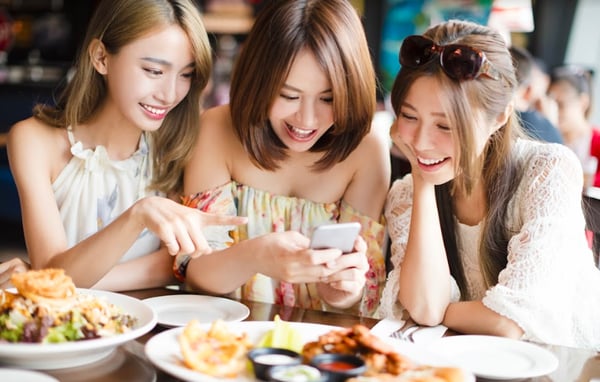 In addition, a strong correlation has been linked between online ratings and business revenue.
According to Modern Restaurant Management, the impacts that ratings have on your business are substantial. Here are several eye-opening facts they listed:
For every star a business gets, there will be an approximate 5-9% increase in business revenue.

Consumers are likely to spend 31% more at a business with excellent reviews.

72% of consumers say that positive reviews make them trust a local business more.

Restaurants with an improved rating of just ½ star (out of 5) were much more likely to be full at peak dining times.

61% of consumers have read online reviews about restaurants – more than any other business type.

34% of diners choose a restaurant based on information on peer review websites.

53% of 18-to-34- year-olds reported that online reviews factored into dining decisions, as do 47% of frequent full-service customers.
It's plain to see that receiving more and better customer ratings is key to growing your customer base, increasing revenue, and driving down costs – and this is expected to remain the case for quite some time.
Think about current foot traffic and revenue at your place of business and you'll further realize how important and valuable positive user ratings can be.
At the same time, if you have numerous negative online reviews, your business can take a hit.
22% of consumers will choose not to do business with a company (all industries) after reading just one negative review. After three negative reviews, that number jumps to 59%.

Four or more negative reviews about a company or product can take away 70% of potential customers.

86% of consumers surveyed reported they would hesitate to purchase from a business with negative online reviews.

On average, a single negative review costs companies in all industries 30 customers.

Negative reviews in Google search results can cause a loss of 70% of potential customers.

Restaurants are more affected by negative reviews than any other business type, followed by hotels, doctor's offices, hospitals and hair salons.
Fortunately, your restaurant's online reputation is not completely out of your hands. Here are three practical and powerful ways to make restaurant ratings sites work in your favor.
Monitor Customer Ratings and Reviews
Start by monitoring the reviews your business receives on various sites. Checking manually is time-consuming, so to help ease the burden, create Google alerts and enroll in Yelp and TripAdvisor's free notification services.
Good or bad, it is critical to gain a clear view of your business from the customer's perspective. Consistent positive reviews can clue you in to what is working well; whereas trends in negative reviews can serve as red flags as to what aspects of service need improvement.
When you have a good understanding of what your ratings and reviews look like on these major websites, you can begin to make marketing and operational decisions to begin generating an upward trend for your business in bot quality and quantity of customer ratings.
Respond to Your Business Reviews
Treat each customer review seriously. Promptly responding (within 48 hours) to negative feedback shows your customers that you care about their experiences. Take active steps to pinpoint each issue, improve your shortcomings, and explain those steps to your customer base.
Listening and responding in a constructive way can effectively secure and retain loyal customers. Above all, make sure to offer a sincere apology for any negative review.
For details on how to effectively deal with negative reviews and turn them into a positive experience for everyone, read our article about responding with T.A.C.T. here.
Actively Solicit Reviews
Acquiring new positive reviews is even more important than mitigating negative ones. TripAdvisor's popularity ranking is based on the quantity, quality, and age of reviews. Other sites default to show the most recent reviews first, so a constant flow means that new positive reviews stay at the top of the profile.
Let your happy customers know that you are seeking feedback, and encourage them to rate your business. When you see customers enjoying themselves, dwelling for longer periods, finishing their entire meal, or leaving a large tip, strike up a conversation.
Asking for a review from a happy customer is one of the best ways to ensure a steady flow of those valuable positive ratings and reviews.
Don't allow negative reviews to wreak havoc on your revenue and reputation. Instead, take control of your online ratings and reviews, stay on top of them and deal with any negative reviews to turn them into a positive one, letting your customers know that you care about each and every customer experience in your establishment.