Customer churn, also known as customer attrition, isn't an isolated event. It's a process that can start at any time, from when a potential customer first discovers your place of business, to when they finally become a repeat customer.
Your company's strategy to combat customer churn must work similarly, providing an end-to-end solution — and it all starts with your data.
Customer-Generated Data Sources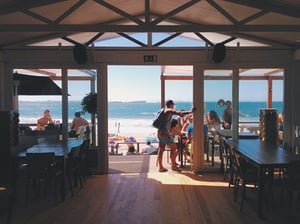 You can't understand why customers decide not to do business with you anymore without observing interactions from their perspective.
This is most commonly achieved by examining the data that customers leave behind during and after each encounter.
These clues include responses solicited from surveys as well as voluntary feedback, such as social media comments and interactions.
Viewing things from the customer's point of view is the most important thing to remember.
After all, their perception of an interaction relates directly to how well your company meets customer expectations.
For example, you may look at a 4-top dining party and look at metrics such as how long it took to be greeted as a factor in churn. While this may very well be part of the picture, the customer will likely view it a bit differently.
For them, the most important measures of success would be how effectively the problem was solved, whether the issues had to be escalated to a manager, and the suitability of any alternatives that were offered if their ideal solution couldn't be met.
These are among the most valuable metrics when it comes to customer-side data.
Technological Sources
Innovations in WiFi analytics are making it easier than ever to monitor customer churn in brick-and-mortar environments.
Using the guest WiFi access points at physical locations, WiFi analytics platforms like Bloom Intelligence can monitor customer behavior data – even if they don't log into the WiFi.
If a customer does log into WiFi, even if it's only once, a customer profile is created for that customer and Bloom begins monitoring their past, present and future behavior for the potential of churning.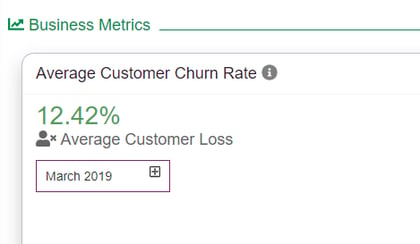 Bloom's churn indicator provides a quantifiable overview of the percentage of a business's customers that have not returned and are presumed lost during the selected time period.
Behind the scenes, it calculates customer churn for each individual customer, based on their behavior.
Knowing your churn rate enables you to more reliably predict how many times customers will return and, coupled with customer spending data, their lifetime value to your business.
This, in turn, gives you a better idea of how much you are willing to spend in order to retain your loyal customers.
Putting It All Together
These parameters are all concrete, controllable elements, serving as the basis of an effective strategy to decrease churn.
Conducting continuous research and leveraging existing customer data to identify the most significant pain points is the only way to properly identify and eliminate the reasons for customer loss.
It's also the key to creating optimal experiences that don't leave room for churn-inducing scenarios.
By connecting the feedback and other data from all sources, you can identify broad patterns in dissatisfaction and abandonment and then delve into the specifics of why each customer was lost.
Understanding churn requires comprehensive knowledge of your customers' journey from start to finish as well as insight into your clientele's needs and behaviors.
This not only includes how customers interact with your company, but what they do — or are likely to do — once their interactions are complete.
Each element is attached to an observable piece of data originating from a variety of sources, including customer service records, social media and technological tools.
Analyzing this raw churn data requires a sound assessment strategy to predict and reduce customer loss effectively.
Download our free guide below. It explains how to keep customer churn in control at your place of business using WiFi marketing and analytics: