As the Coronavirus continues to spread across the world, there is just no way to tell when restaurants and retail locations can open their doors to on-premise customers once again.
Because of this, businesses have been forced to change the way they think about keeping their revenue stream alive. For those who have the ability to maintain an effective curbside and/or delivery model, it is crucial to turn to their most powerful, yet low-cost, marketing tool – their customer database.
Using Your Customer Database for Food Delivery Marketing
Having a large, clean customer database allows business owners to continue marketing to their customers when they have to pull back on paid advertising. Or, as in the case with the Coronavirus, if they have to shut their doors to on-premise dining, a customer database can help ensure a continuous flow of delivery and take-out ordering.

Plus, while consumers are staying indoors, it is important to keep your brand recognition strong. Emailing your customer database regularly will keep your business in mind when they are deciding where to order food for delivery. And when you can finally open your doors to on-premise dining, you will have the brand recognition advantage over your competition.
Engage Delivery Customers with Email Marketing
One of the most effective digital marketing tools remains e-mail marketing. Unlike other methods, e-mail marketing allows companies to contact people who have an interest in their product or service directly, and in a place that they are actively engaged. Website ads and social media posts are often glossed over, whereas an e-mail grabs a user's attention. 
The key to a successful e-mail marketing campaign is collecting as many customer addresses as possible, along with as much information about them as you can get. The more addresses you have, the more customers you will bring back into your business. And if you have detailed information about who you are sending the e-mails out to, you can better tailor your messages to fit your audience. 

Pivot Your Campaign Messaging
While consumers are utilizing take-out and delivery services at a record pace, they are still scared of contracting the virus. This presents the number one message you should convey to your customers - safety!
Let them know what measures you are enforcing to stop the spread of the virus. If you are offering no-contact delivery, for instance, let your customers know. If your drivers are mandated to wash their hands and don a new pair of gloves for every delivery, let them know.
While consumers are scared, this can be a difference maker between ordering from you, or ordering from your competition.
There are many other tips on marketing during the pandemic here and here.
Collecting Customer Data
If your business has a physical location - such as a restaurant, coffee shop or gym - then a great way to gather both e-mail addresses and customer information is by providing them with WiFi. You control the landing page that pops up when they connect to your network, and can use this page to gather their e-mail addresses. 
Customers will typically be more than happy to exchange an e-mail address in return for a free Internet connection. Even if your customers don't actually connect to your WiFi, you can capture plenty of useful information about their behavior - such as when they typically visit, and how long they stay.
However, when on-premise dining is not available, it becomes more difficult to collect this information. Bloom Intelligence realizes this, and we are releasing a new website widget that allows your customers to enter their information on your company website, just as they would on your WiFi landing page.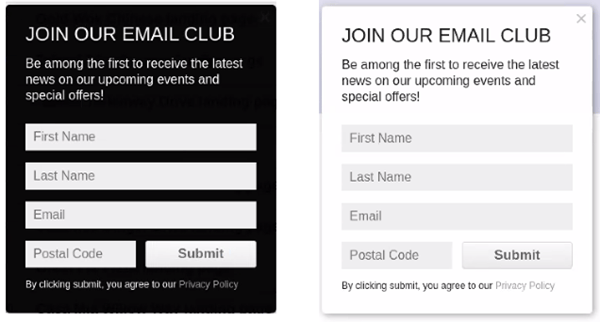 If you want to start generating return customers, you need a way to reach them after they leave. By using a WiFi connection or website widget to draw them in, you can get contact information from your customers, and use it to bring them back for different promotions.
With on-premise dining banned in most areas, restaurant owners and operators should use their customer database to keep revenue going and to keep their brand top-of-mind with their customers. For more, read our post about "Helping Your Restaurant Survive the Coronavirus."