If you operate an entertainment center (perhaps a bowling alley), you likely provide free Wi-Fi services to all your customers to stay competitive and offer convenience. However, did you know you can use the Wi-Fi you're offering as a tool to gather data on your customers?
It's a good example in how technology you already have often works on other levels you didn't expect, especially to gather data. Since most to all of your customers have a mobile device, being able to gather data from them helps you target your marketing in a more personal way.
You can do this through an Intelligent Wi-Fi portal. Here's ten best practices for Wi-Fi automated marketing in your family entertainment center to show how this technology works.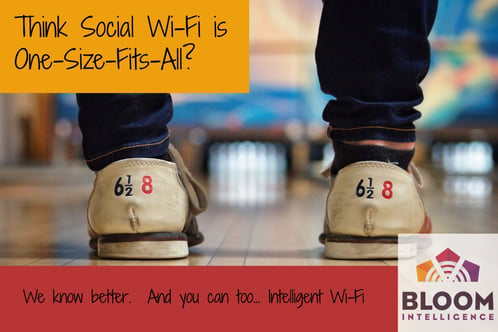 1. Use In-House or Third-Party Loyalty Programs
A popular best practice for Wi-Fi automated marketing is to integrate with digital loyalty programs. Doing this in-house or through a third-party can work well while gathering necessary information on each loyal customer.
Gathering this data is invaluable because you'll be able to know who your most loyal customers really are. By providing more targeted marketing based on their needs, you give them more incentive to return to your entertainment center.
2. Sending Personalized Reminders About Anniversaries
Sending automated reminder texts to loyal customers allows you to create a more personal relationship with those who visit often. Through data gathering, you'll know when their birthday is or specific anniversaries. An automated reminder to visit your bowling alley or entertainment center for a party provides a connection akin to talking to a close friend.
3. Enticing Bowling Teams to Visit in Exchange for Discounts
If bowling teams only play occasionally in your bowling alley, you'll want to find a way to entice them tovisit more regularly. A good best practice is to send automated mobile messages offering discounts, a free item, or other incentives the more often they play in your facility.
4. Detailing the Fun Aspects About Bowling
You'll find many who lament how diminished bowling has become in bringing local communities together. Take all the data you have and segment which of your customers would benefit the most from bowling to foster local unity. By targeting families, you can help nurture family activities and keep families visiting you on a regular basis.
Ultimately, you're helping communities grow closer in the process while helping your business.
5. Offering Products Based On Age or Demographics
You'll be amazed at how much data you can gather through Wi-Fi automated marketing. One of the most important is the age and demographics of your customers. Even if some of those are children, they'll enjoy receiving personal texts themselves about products or games you offer.
Of course, as a best practice, always request parental consent if sending messages to kids younger than teen age.
6. Sending Surveys to Gather More Information
If you've successfully sent content and offers to your targeted customers, you still have room to know more about them. Sending them personalized surveys to their mobile devices can help you gather more information to make their experiences more meaningful.
Don't be afraid to ask pertinent questions so you can tweak things in your entertainment center to suit changing customer tastes.
7. Alerts About New Games or Other Products
Operating an entertainment center means continually adding new games, equipment, or related products to stay competitive. When you get these in, you can send mobile alerts to targeted customers about what's new.
Since you can send information in real-time, many of your local customers may come visit within an hour.
8. Don't Become Too Creepy in Your Personal Messages
A major mistake some marketers make when sending personal mobile messages is demonstrating how much they really know about their customers. While it's easy to gather considerable data from Wi-Fi portals, it's better not to get too personal.
The creepiness factor might turn off some of your regular customers. As a best practice, consider toning down what you know while still honing in on loyal customer pain points.
9. Always Provide an Opt-Out Option
If you're sending recurring mobile marketing content to your loyal customers, always give them an opt-out feature if they so choose. No one wants to stay locked in to receiving marketing text or emails without wanting options.
Keep sending targeted content you know they'll like and this won't happen. However, knowing you give customers options proves you care about their welfare.
10. Assuring Compliance On Securing Privacy
Even in an entertainment center like yours, customers might worry any data you take could become compromised. Always assure them how safe your Wi-Fi network is and how you stay compliant with customer data.
Most of all, let them know the data you acquire goes toward making their experiences better rather than being sold off to others for profit.
Visit us at Bloom Intelligence to use our Wi-Fi access points to help you gather critical customer data in your entertainment center.