Running a restaurant requires more than just serving food and assuming you're giving customers exactly what they expect. You need to know what your most loyal patrons want so you can keep them coming back rather than defecting to competitors. While you may already gather data through your POS system, it's not always thorough enough to know everything.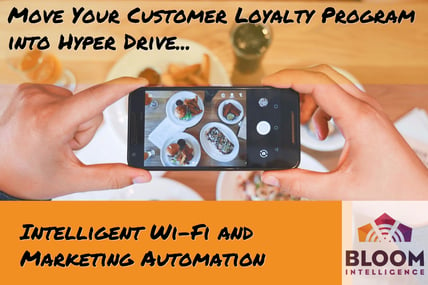 If you already offer free Wi-Fi service to your restaurant customers, you can turn this into an intelligent data-gathering system through a captive portal. This system captures data on anyone logging in on their smartphones and participating in your data-gathering process.
You'll be able to capture data you couldn't receive from POS technology while giving you methods to do more targeted marketing.
Here's ten best practices for captive portals at restaurants to gain repeat visitations.
1. Calculating Customer Traffic
Do you really know how many people come and go from your restaurant each business day? Maybe you know about a few loyal customers, though what about those you don't know well?
When customers opt in to allowing you to collect their data, you'll know exactly who's coming in, how long they're staying, and when they leave. If they're leaving too early, you'll have to tap other data to see why.
2. Studying Your Churn Rate
It's normal to have some kind of churn rate, though you don't want a high one. Acquiring mobile data can help you determine some of the more specific reasons why churn rate is higher than normal.
Does it relate to the wait staff in your restaurant? Or maybe it has to do with your menu and customers wanting some changes. Restaurants that take metrics seriously say you may have to offer discounts or give customers VIP treatment to lure them back.
3. How Many Return Visits Do You Have?
Some customers you don't know well may keep returning to your restaurant without your knowledge. By studying their data, you can start treating them like VIPs with personalized mobile texts. Letting them know about special restaurant deals in real-time while in the local area can bring them in immediately.
4. Adding Customers to a Loyalty Program
Another data best practice is to use customer data to start a loyalty program for customers you value. You may already have one in place, but mobile data captured automatically goes toward creating more personalized programs.
Doing more targeting lets you send discount offers to segmented customers based on the foods they like and their specific demographics.
5. Re-Marketing to Customers Who Haven't Visited in a While
It's inevitable you'll encounter loyal customers who don't visit for a long while due to various circumstances. If you gather data on them with a captive portal, you'll know how to entice them back with re-marketing efforts.
You can do this by creating new mobile ads and target demographics you know are going to respond.
6. Sending Offers to First-Time Customers
How should you market to a first-time customer visiting your restaurant for the first time? Capturing their data when they first visit can enable you to put together mobile offers you know they'll like.
While it might take several visits to gather more data, you can learn a lot about what a first-time visitor enjoys based on what they order and their behavior.
7. Helping With Staff Scheduling
A major best practice for capturing data is to use it to make more profitable business decisions. One of those is in staff scheduling.
Analyzing the latest data you captured from customers can help you bring in only the staff you really need on certain days. Now you can save money having to pay staff you later realized didn't have to come in.
8. Marketing Tests
Creating content or offers for your restaurant may need A/B testing first. With captive portal data available, you can narrow this down faster so you don't have to test as long. Nevertheless, it's always a best practice to do marketing tests.
Improving your offers can occur faster thanks to the thorough information you'll have available. You may know more about your customers than even they know, even if you don't have to say you do.
9. Accumulating Data From Franchises
Those of you owning a restaurant franchise want to know what's going on in each of your locations. Wi-Fi technology in each restaurant determines this on the same day. Since the data gets stored in the cloud, you can easily access it on your own mobile device to compare how many customers visit in each place.
10. Accumulating Data From Chains
The same best practice principles apply to chain restaurants. This could entail a lot more data since your chains may extend across state lines, and even international lines.
What's important is to equip each restaurant in your chain with a captive portal Wi-Fi system. Now you can see a big picture of what's occurring in all of your chains without having to continually second-guess.
Visit us at Bloom Intelligence to use our Wi-Fi access point technology in your restaurants to find out the truth about what's really happening with your patrons.