Would you like to know what store promotions are working? Would you like to know what marketing campaigns are delivering real ROI? How about your operations and your staff, wouldn't it be nice to have some type of metric to gauge the performance of your business and employees?
Smart, reliable and insightful data is the backbone behind successful businesses today. This type of valuable information will direct your marketing efforts, guide your business plan and make your business stronger. Increasing revenue, fostering customer loyalty and building your brand are just some of the ways that intelligent data will benefit you.
Every piece of data tells a story and the Customer Repeat Rate metric is an example of one such telling piece of data.
Customer Loyalty Speaks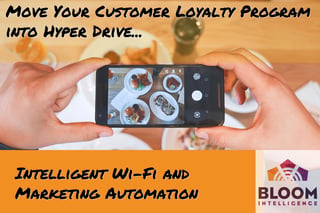 Customer loyalty is something we can steer as a business and those behaviors demand our attention. There are often warning signs before a business falters, and almost inevitably customer loyalty has served as a signal in these cases. This may manifest as a drop off in the customer repeat rate or decline of first time visitors. Needless to say, these stats can be tell tale signs.
There is a reason for that. Our businesses, our success and our livelihoods depend on meeting customer needs and exceeding their expectations.
Information that Gives Insight
Perception is the key to understanding data...
"The world is now awash in data and we can see consumers in a lot clearer ways."
- Max Levchin, Co-Founder PayPal
When we learn to observe customers through the window of technology, information becomes insight that avails a deeper and better understanding of our customers.
""The goal is to turn data into information, and information into insight."
– Carly Fiorina, former executive, president, and chair of Hewlett-Packard Co
This isn't breaking news anymore, this is how smart businesses are succeeding today. Data, such as the Customer Repeat Rate, can be used to model this information to insight practice.
Customer Repeat/Return Rate
Think of any promotion for your business that is designed to induce more frequent visits. Perhaps a certain number of visits earn patrons a free menu item, or if your customers spend so many dollars this month their next shirt purchase is half-off - whatever the promotion might be.
After the first month, first week or even first day of the promotion you will have gathered raw data for your sales, customer visits and so on. Using this data intelligently will reveal insights to inform you about how well your promotion is doing and illuminate areas that can be improved.
If the first week of your promotion was a hit and your overall sales and customer visits increased but the following three weeks of the month fell off, insights can be revealed. Your campaign obviously reached your audience (first week results), yet something wasn't working because there wasn't any increase in the customer loyalty as indicated in the lack of growth in the customer repeat rate metric (evidenced by the following three weeks).
When these numbers are calculated alongside other metrics and put into the hands of marketing experts, a picture can be drawn. Bloom Intelligence utilizes an intelligent dashboard to track your customers, gather information and afford data that leads to insights.
Using Wi-Fi technology, the intelligent dashboard leverages the power of the Internet and of Wi-Fi sensors to collect customer intelligence, putting metrics that matter into your hands.
Data and Your Business
A Forbes article discussing the importance of data began the story saying...
"These days, every brand is obsessed with data. And, they should be."
It has been said many times about many things, that information is power. When it comes to data and your business - that has never been more true.