"It is a capital mistake to theorize before one has data. Insensibly one begins to twist facts to suit theories, instead of theories to suit facts." — Sir Arthur Conan Doyle, physician, author

The most effective marketing campaigns are built on solid, reliable data. For brick-and-mortar marketing campaigns, WiFi analytics can bring you exactly the type of data you need.
WiFi analytics literally fill in the gaps and take away the advantage that online businesses have had for decades. You'll finally have easy-to-understand, accurate offline customer behavior data without the need to hire expensive companies to perform market research for you.
For some, the concept of WiFi analytics and marketing may seem daunting at first, but it's actually simpler than you might think. All you have to do is learn what each metric, or set of metrics, means. Then you can use the data to measure the effectiveness of your campaigns.
WiFi analytics metrics can be broken down into three main categories:
Customer acquisition metrics
Customer engagement metrics
Customer retention metrics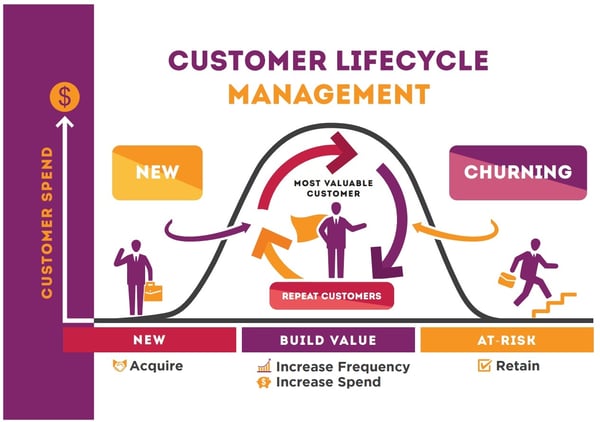 Let's take a look at each of these categories and how they can help you improve your marketing efforts.
Customer Acquisition Metrics
Are you currently aware of how many new customers are actually visiting your stores or restaurants? If this is the goal of your marketing campaign, it's impossible to know how effective it is without knowing how many new customers are coming into your locations.
WiFi customer acquisition metrics will give you that accurate measurement of new customers, and help you determine the effectiveness of your marketing in terms of bringing in new customers at one or all of your physical locations.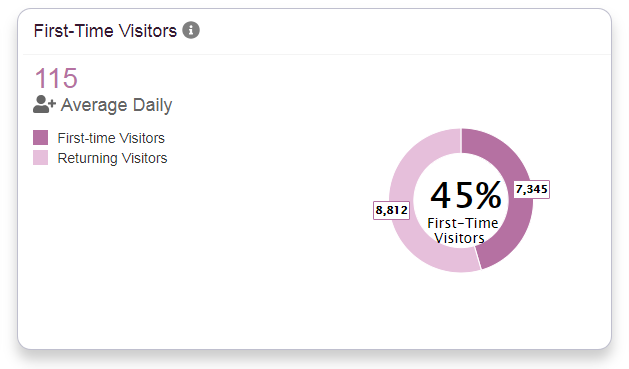 For instance, if you are currently running a campaign specifically aimed at bringing in new customers, imagine knowing exactly how many new customers have visited. You can compare with various locations and time frames.
Using this metric, you can optimize your marketing campaign with accurate, real-time data and know that you are getting the most out of your marketing efforts.
Customer Engagement Metrics
Once you have reached your goal of getting new customers in your establishment and you can accurately measure it on an ongoing basis, you'll want them to return as much as possible and spend more when they do.
With WiFi analytics, you can have a clear, accurate visualization of how many visitors are returning, how long they are dwelling, their visit times, repeat rates and much, much more.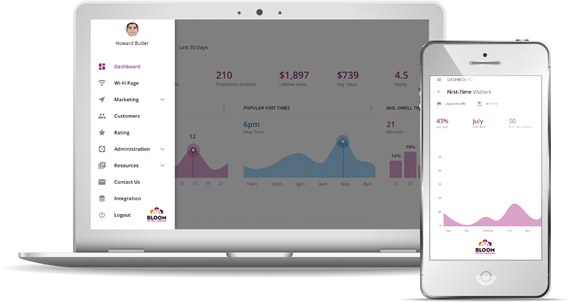 When you can see accurate, tangible data about your customers' behavior on an individual or comprehensive scale, you can tailor your marketing messages and immediately see the impact it is having on your customer engagement.
Customer Retention Metrics
When you have successfully attracted new customers and have them properly engaged, you will want to keep them coming back again and again.
Utilizing the unique power of WiFi analytics, you can see your customer repeat rates updated every single day, in real time. This is the point where you should be actively developing marketing campaigns to establish and maintain loyalty with your most valuable customers. You'll also be able to identify and attempt to re-engage with customers who are churning.
When you can measure exactly how your marketing campaigns are doing, you can continue optimizing them until you reach and exceed your goals.
By understanding and using WiFi analytic metrics effectively, you'll have the data you need to help you develop marketing campaigns for every step of your customer journey, from attraction and acquisition, through building customer value, to retaining your best customers indefinitely.
For a much more in-depth and thorough look into each metric and how it can help you with a multitude of marketing campaigns, download our free WiFi Marketing Guide and start growing your business today!
- How to Grow Tangible ROI from Customer Profiles
- Successful Multi-Channel Marketing for Your Small Business
- Using Customer Profiles to Drive Positive ROI