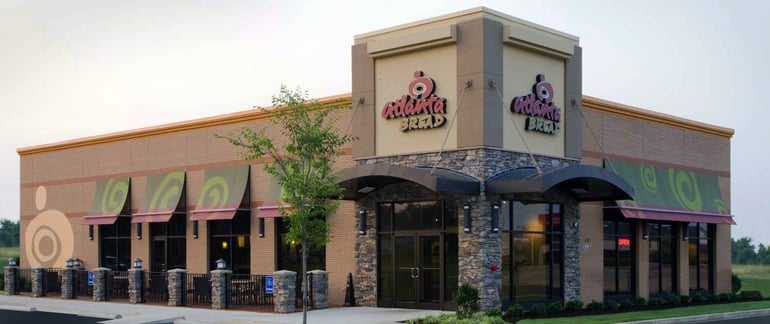 Once upon a time, cafés and restaurants thought they didn't need to offer free Wi-Fi, but then came the digital age. Customers began to want and need different things from the dining experience and social Wi-Fi was a big part of it. Here's how Atlanta Bread Company (ABC) harnessed the power of providing free Wi-Fi to expand their local chain into a nationwide success and how your restaurant or coffee house can, too.
Creating a Work-Friendly Environment
Since 1993, the Atlanta-based sandwich shop knew it was something special. The ABC was a welcoming little café that paid attention to what customers wanted. As more people came in to work as well as eat, they started offering free Wi-Fi to give them what they wanted and keep them coming back. Unfortunately, slow, unreliable connections threatened their success, and they wanted something better.
Providing a Better Solution
They turned to us at Bloom Intelligence to see if things could improve. Not only did they get a faster, more secure and extremely reliable Wi-Fi service, but they were able to up their game with:
Landing pages featuring real-time promotions
Email capture that grew their customer database
Digital marketing campaigns that gave valuable insights and results
Gaining Momentum and Success
The local results were so phenomenal that ABC decided to offer quality service from Bloom Intelligence to all their franchises across the nation. In addition to increased sales across the board, ABC also saw these results:
50 percent increase in Wi-Fi speed
5,000+ customer reviews
21,000+ customer email addresses collected
Serving up spectacular sandwiches and tending to telecommuters really paid off. They now boast a chain of corporate and franchise bakery-café locations throughout the U.S.
Ways Your Eatery Can Benefit
Just like Atlanta Bread Company, you can use free Wi-Fi to attract and retain customers. And you won't have to worry about slow speeds in the back of house, either. Because our Wi-Fi solutions keep your systems separate, your customers will enjoy the Wi-Fi speed they need while you keep cooking in the kitchen. Our powerful analytics will also show you detailed reports with information such as:
Customer traffic
Visit patterns
Conversion, loyalty and churn rates
Want to learn more about how Bloom Intelligence helped ABC refine their recipe for success? Download the full case study and see results that keep people engaged.
Contact us today to schedule your own no-obligation demo. We're ready to help you Bloom!