If your location-based marketing campaign doesn't incorporate location analytics collected through wifi access points, you are missing a huge opportunity to improve the return on investment of your marketing dollars. Likewise, restaurant operations can be greatly improved, and measured, using location analytics.
As any brick and mortar establishment marketer knows, it's all about the traffic. So, things like what brings your customers in, what drives them to stay, and how can you get them to come back, are powerful marketing nuggets that a savvy marketer can mine from their wifi location analytics.
What Is WiFi Location Analytics?
Not all social wifi networks are created equal. Some social wifi solutions are great at providing WiFi service for your customers. This is a wonderful advantage and powerful incentive for customers to do business with you. But there are other WiFi marketing and analytics platforms that offer detailed, comprehensive location analytics; rich, behavior-driven data about the foot traffic that enters your location.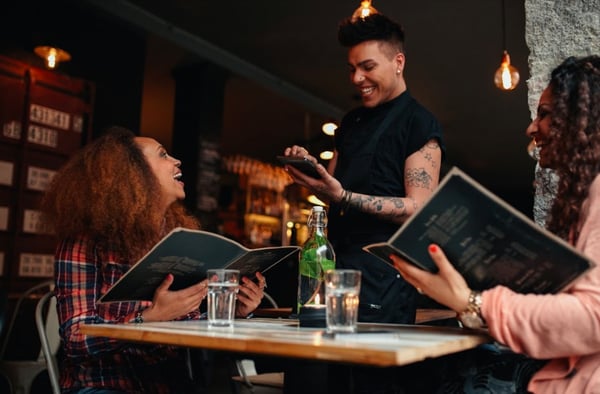 There is an incredible amount of customer data potentially available through WiFi location analytics including customer visits, length of visits, return visits.
Wouldn't it be great to know these data, and apply to your email marketing and outreach? And at some point, to incorporate social media and customer engagement based upon your skillful ability to hone your marketing campaigns and restaurant operations based on real-time data analytics.
A quality WiFi marketing and analytics platform, like Bloom intelligence, can provide these powerful location-based marketing analytics.
In 2020, location analytics, also known as presence analytics, should be a core business marketing tool for brick-and-mortar businesses. Without understanding how customers are responding to your marketing campaigns and revisiting your location, your marketing will be hit or miss, at best.
Location analytics using your WiFi access points can be gathered even if visitors do not log into your WiFi. Yes, read that again...your visitor doesn't even need to sign onto the WiFi. Anonymous information is captured, including length of visit, traffic patterns, time of day, and even repeat visits.
And Bloom will know when any of those devices return to your location, giving accurate, tangible data to measure you marketing campaign results.



Location analytics are vital for brick-and-mortar marketing to become more efficient, more effective and more profitable. Here are 5 steps to drive more business using location analytics gathered through your WiFi access points:
1) Location analytics can reveal what is driving customer visits
Many marketing campaigns are based partially on fact, partially on experience, and partially on a hunch. You have an educated concept of who your target marketing persona is, and you believe you understand their motivating factors. But how can you know for sure whether your marketing campaign is on target?
Location analytics can capture traffic data regarding customer visits that you've never had access to in the past. Does foot traffic increase when you run the campaign? Does it stay the same? Are you attracting new prospects, or are past customers making return visits? Even time of day and day of week traffic can be segmented and evaluated. To understand what is driving business, it is critical to measure which marketing message or media is impacting your customers. And in restaurant marketing, more visits are typically the main goal of your campaign. More visits means more revenue, and consequently, more customer data.
2) Location Analytics Reveal What Drives Repeat Customer Visits
Location analytics not only provide a data trail to improve marketing messaging and increase your customer base, they also can reveal return customer data. Campaigns designed to reach first time consumers versus driving return traffic can be measured based upon consumer's activities.
Using location analytics, you can easily distinguish when a customer comes back, and over time, this is a fabulous way to define campaigns based upon traffic goals, and then determine whether the messaging is working with accurate, tangible location data. Without this information, your marketing dollars can be spent on endless campaigns and even repeated campaigns that could be ineffectual. Instead, real-time traffic analytics can validate and support marketing effectiveness.
3) Marketing campaign messaging can be refined and improved using location analytics
Real-time location analytics provide insight into marketing messaging and whether or not it is effective and engaging. For example, if the ultimate marketing goal was customer retention, location analytics are helpful in providing baseline data, as well as metrics to accurately measure against.
Once a baseline is established, messaging can be refined on an ongoing basis with AB testing. With real-time behavior analytics, the marketing campaign can be tested and continuously improved while results can be realistically measured in real time.
4) Revisit campaigns with more efficient offers based on location analytics
Over time, as more data is gathered, you will be able to easily go through your campaigns to find those that are resonating with your various target customer groups. From there, testing other offers can hone in on what is working the best for your business and marketing goals. Inefficient marketing campaigns can be reduced or eliminated, yielding greater return on marketing investment.
For example, it would be best to measure what customer retention is like initially through your WiFi access points. If customers visit, but do not stay long, you'll know exactly how long they are staying? And then after you have developed and deployed marketing efforts to boost retention rates and dwell times, you can look at the analytics again. Is there an improvement in the numbers? If not, what needs to be done to improve?
This will help improve and enhance marketing efforts in order to drive long-term, sustainable success. And with Bloom, you can have various campaigns being executed simultaneously to each of your different customer personas.
5) Data from location analytics results in improved return on investment
As data are gathered, eliminating inefficient marketing programs will result in cost savings, as well as creating more effective marketing campaigns. This has the effect of improving return on marketing investment while driving customer lifetime values and per-person averages higher.
Using location analytics through a WiFi marketing and analytics platform like Bloom Intelligence is one of the best ways to gain a direct channel of insight into your customers. It provides a level of insight that is simply not be possible through other solutions. Having access to accurate, comprehensive location analytics will help propel a business to improve and enhance current offerings in a much more targeted way for maximized success.
Are you ready to start growing your business with location analytics? If so, find out how Bloom Intelligence's WiFi analytics & marketing platform measures offline customer behavior and builds customer loyalty. Call 727-877-8181 or click here to schedule a free demo of the platform.
It's time to start leveraging your guest WiFi to gain a competitive edge. Then watch your profits grow.