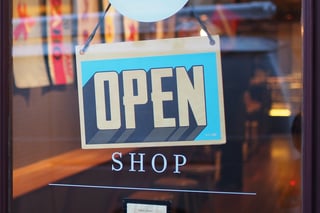 We're in a technological era where your store marketing must combine digital marketing with your offline efforts to stay relative in 2018. More of your customers are leveraging the Internet to search, shop, and socialize. As a brick-and-mortar, it's important to show up where your audience is…and that's online.
If not, you risk the chance of being left behind or missed opportunities that can truly accelerate your growth and revenue.
So, here are three digital marketing tips and tools you can begin to leverage to optimize your store marketing today.
Store Marketing Tactics to Better Your Digital Strategy
#1 Wi-Fi Marketing Sensors
Did you know by offering free Wi-Fi, you create a plethora of opportunities to market to your customers? In a digital age where growing your email list is the lifeblood of your business, presenting your guests with free Wi-Fi is an easy way to collect email addresses to bolster your online marketing.
You see, your Wi-Fi analytics opens the door for you to keep customers in the know when new products, flavors, or services are released. It also provides invaluable data alerting you of first-time customers, how often they visit, which times are most busy, and other info to help tailor and modify your business.
When this information is coupled with your email marketing, you now have a two-edged sword to effectively market and share content specifically for that user through email segmentation. By segmenting your list from first-time customers, loyal ones, and based on their purchases, your email messages will speak directly to their needs and wants. This personalization enriches your digital marketing and provides your customers with exceptional service.
#2 Facebook – Organic Marketing and Ad Campaigns
Facebook's marketing power is real. Numerous stats and figures show that running a Facebook campaign can bring favorable results to your business…even as a brick-and-mortar. From creating campaigns to increase visibility in your local market to promoting a sale that elicits website or in-house orders, Facebook advertising can certainly empower your online marketing and increase your bottom line.
Also, as the #1 largest social media network, your fans are eager to see and connect with you on Facebook. By optimizing your Facebook marketing, you provide multiple ways for customers to reach and stay plugged in.
The good news is, your Facebook marketing doesn't have to be an elaborate or overwhelming strategy. Just focus on sharing valuable content that your customers would be interested in, solves a problem, offers value or entertains.
You don't have to post multiple times a day on your Business Page to be effective. Quality trumps quantity. This especially pertains to the new changes in Facebook's algorithm that hones in on meaningful conversations opposed to simply promoting.
Therefore, commit to a posting schedule, whether it's once or twice a day, and ensure it's relatable that encourages people to interact and reply.
#3 Live Video on Social Media
Live video is all the rave on social media, so much so that Facebook gives it greater organic reach in newsfeeds than image or text posts. Additionally, 82% of social users actually prefer live video content over social media posts.
Using apps like Facebook Live and Instagram Stories are brilliant ways to boost your store marketing strategy online while giving your audience more of what they want. It's ideal for increasing engagement, driving awareness, and keeping customers interacting with your brand beyond store visits.
Live video also brings a level of authenticity to your content. People truly get to see who you are behind-the-scenes of your brick-and-mortar brand. As a result, you'll continue to build trust and create more ways for customers to like you.
So, commit to adding live video to your digital marketing strategy. Here are a few simple ways how:
Host Q&A sessions where customers have an opportunity to get live responses from you or one of your team members. Document these inquiries as they make great content ideas for your blog or social media content
Go live during a busy day at the store. Be sure to let your customers know a few minutes before to make sure they're okay with being on camera. It's a great way to show social media your culture and get fans involved
Show them how your team works behind-the-scenes. Give users an experience of how you prepare to ensure
Don't Miss these Store Marketing Opportunities
This is the perfect chance to improve your digital strategy for your brick-and-mortar business. Enhance your offline efforts with online marketing. As a result, you'll experience a growth in online engagement, loyal customers, and an increase in revenue. With these favorable outcomes, it's worth giving each a try!