Consumers visiting your Master planned community may or may not visit your Welcome Center, When they go directly to the models, you may not know, unless their unique signature or MAC address of their cell phone gives them away. Monitoring these visits, through your captive Wi-Fi portal can give some tremendous insight into consumer behavior. But just having that data may not be enough. One of the biggest challenges you may encounter when gathering customer data is attempting to make sense of it all. If you're still using other methods through a POS to capture basic customer data, much of the information isn't very thorough, or it's difficult to interpret.
Is there a way to gather this customer data, and sort it so it's far more detailed to help understand motivations and gain insight for consumer purchasing?
A Wi-Fi portal is a superior method to collecting data about prospects traffic patterns and return visits because whether they log into the network or not, their unique MAC address is shared through mobile devices.
Gaining consumer insight for master planned communities is just as valuable when putting on a housing showcase. Especially if combined with a contest, encouraging the prospect to log in can correlate their identity with prior visits, generating a complete picture of the interest in various models.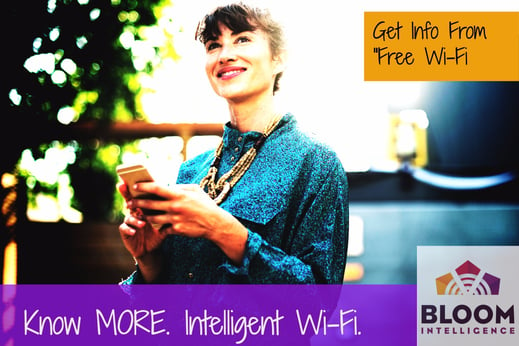 Without Wi-Fi technology, tracking visitor interactions would be tedious and complicated, plus inaccurate. Here's how your master planned housing community can use Wi-Fi portals to capture more and better insight than you've tried for years to gather.
Tracking Traffic Patterns in Model Homes
For a planned community, your model homes are staged throughout the community. As consumers wander through the homes, and repeat visit some homes, you know have an opportunity to anticipate the customer's interest. Even if a customer leaves and returns at a later date, you have that information. And, if the customer eventually logs into your Wi-Fi portal and registers, you now have a way to correlate that name with their visits. What a power house marketing tool!
You may already have Wi-Fi services available on-site. If you do, you can use it as your data gathering portal rather than merely using it as a free service for visitors.
Another way to utilize the consumer's information is to send them an email thanking them for visiting your Master planned community. While no one likes to be spammed with tons of sales emails, a gracious thank you is considered classy and is appreciated. It puts your community in a good light. You can also use that thank you note to incorporate an option to sign up for the community newsletter, or to attend an upcoming community event, encouraging repeat visits and staying top of mind.
Once you have this data, you'll know exactly how long visitors spend in model houses to help you identify possible sales leads. This helps fill in major data gaps you've had since not all visitors are going to enter through your welcome center.
Knowing Where Visitors Are in Real-Time and Where They Go Next
You'll be amazed how much data you can extract from a Wi-Fi portal. Much of it is real-time information so you can track where your visitors go in the moment. Based on other data you'll gather the same day, you'll get a good idea where these new visitors plan to go next.
It's akin to having a live crystal ball where you can gain immediate insight on what a visitor might do before they leave your event.
Gaining Further Data When Customers Log-In
Perhaps you'll want your community showcase to promote visitors logging in to use your Wi-Fi service. Offering it free gives them more incentive to sign in. The minute they do, you can create a custom mobile landing page that provides relevant information to help visitors navigate the grounds.
At the same time, you'll be able to gather far more detailed data on these people and be able to send them information in real-time they can use.
For instance, your landing page can show what properties are available to fit their criteria. Plus, you can announce special events to others to encourage more engagement with the community.
Using the Right Words in Follow-Up Marketing
After capturing valuable visitor data, you can continue to send mobile texts with information they'll find useful. Automated emails are one of the best ways to target those you know are close to buying a home. You'll know how far along they are in the marketing funnel based on the data you have.
Automated drip email campaigns can be set up based upon the parameters you identify, with data identifying the best time to send messages. Plus, you'll have insight of your customer's interests to personalize your approach in the follow-up process.
Customers love personalized attention and it's been proven to increase your close rates and help customers make smarter home-buying decisions. Your mobile data can tell you which phrases or semantic approaches work best on similar demographics.
Visit us at Bloom Intelligence to use our Wi-Fi portal technology to capture data like this at your planned master community or model home showcase. We'll show you how to create compelling marketing and gain customer insights from your captive portal for your master planned community.