Have you ever wondered how Wi-Fi enabling your restaurant, gym or retail outlet could increase your customer loyalty? In a post last month we introduced how this works, the information available on the Bloom Intelligence Dashboard, and how our service can provide valuable information like number of customers, number of first-time visitors, visitors' length of stay, and your peak traffic hours. Now let's go one step further and look at the Customer and Loyalty Metrics section of the dashboard to better understand the benefit of knowing the demographics of your customers and their loyalty to your establishment.
First Time Visitor Return Rate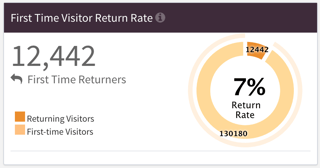 This metric expands on the number of first-time visitors discussed in the Footfall Metrics section of the
dashboard by adding return rate. The best way to understand loyalty is to measure the likelihood of previous customers to continue to buy from a specific organization. Returning to your retail outlet again after a first visit is a great demonstration of customer loyalty. The dashboard shows return rate in absolute terms and as a percentage of all first-time visitors. Over time it also tracks increases or decreases in this percentage.
Average Customer Repeat Rate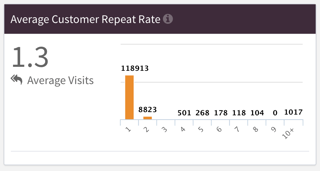 This helpful metric counts the number of visits made by your customers. The dashboard reports an
average number of repeat visits among all of your returning customers. It also illustrates proportion of visitors who have returned one time, two times, three times, etc., continuing up to 10 or more repeat visits. While first-time visitor return rate demonstrates loyalty, average customer repeat rate indicates magnitude of loyalty.
Gender Percentage
You probably have set up your business with a target customer in mind. This metric and the next will help you determine whether or not your predictions and objectives were accurate. If you anticipated your primary market was male yet you learn through our dashboard your customers are mostly female, you may decide to tweak your menu, services, marketing themes, and/or promotions to best increase the loyalty of your existing repeat customer base.
Customer Age
Similar to gender, age is also an important demographic as you shape the messages to your customer. The dashboard provides the average age of your customers and a graphic representation showing proportion of customers at various ages.
By now you are surely seeing the value of Bloom Intelligence. Tune in next time to learn about Engagement Metrics!